Parking Lot Striping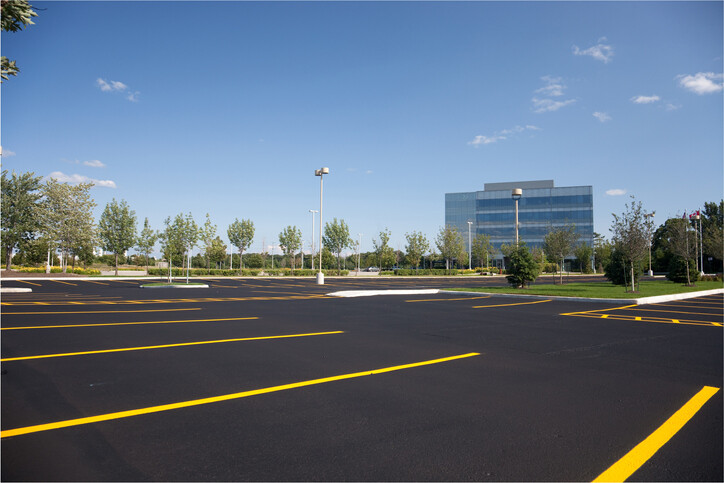 Accurate, clear striping services are important to a well-functioning parking lot. Without them, chaos ensues, creating confusion and the potential for traffic accidents. Pateco Services LLC has been in the business of striping area pavement for more than 17 years and has mastered the art and science of accurate striping. Handicap parking spaces are also clearly designated in accordance with the ADA. Traffic flow is easy to follow, with highly visible directional signs, entrance, and exit markings.
---
Call for a FREE Quote
---
Seamless Parking Lot Striping
Pateco Services LLC has a highly trained full-time crew of parking lot striping workers that have 17 years of experience with painting and repainting lines and markings. Accuracy is key when marking a lot and Pateco Services LLC's pavement markers will lay out the lines in great detail before using accurate striping machines that get it done just right.
Types of Striping Services Offered by Pateco Services LLC Include:
Handicap Stalls
Parking Lines
Curbs
Fire Lanes
Bumpers
Walkways
Bollards
Stencil Work
How Much Do Striping Services Cost?
Call (470) 780-4487 for an estimate and let us know the size of your lot or garage and we'll provide a free estimate to get the job done. One big mistake that our painters see is people trying to cut corners on striping by purchasing lower-quality paint. Inferior products will chip and peel, necessitating more frequent striping services.
Premium Quality Striping Services by Pateco Services LLC
It starts with a team that has the knowledge and expertise to perform the service to your expectations. Equally important is using quality products. The bonding agents in the parking lot paint used by Pateco Services LLC will adhere to just about any surface, whether asphalt or concrete. The products most often used by our team are chosen to match the type of surface. All striping paint used by Pateco Services LLC's team is not only durable but also reflective, which provides improved visibility.
---
Call for Fast FREE Quote
---